Jungle Juice Poppers are among the most popular poppers in Switzerland, along with the classics Rush and Rave and Real Amsterdam Extra Strong. Therefore, we would like to present the different versions in more detail.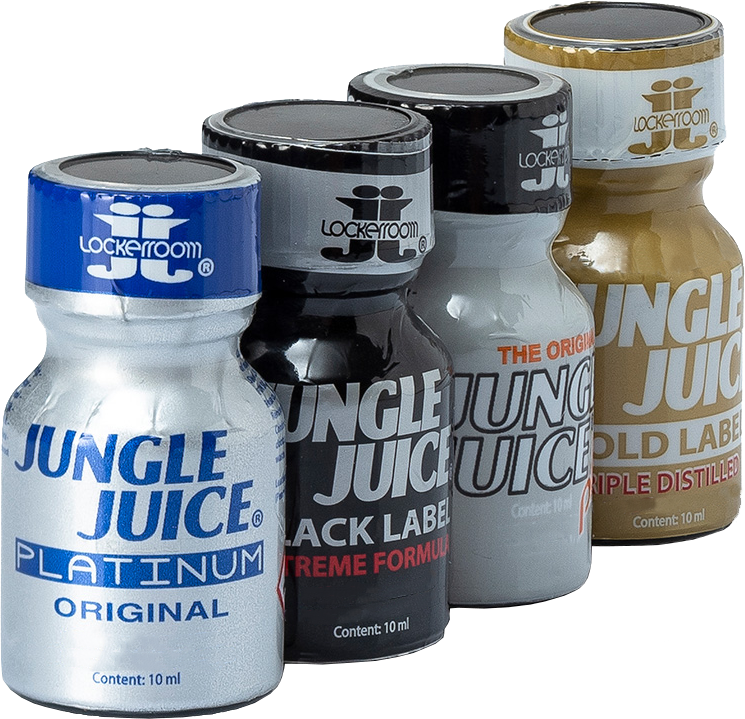 Jungle Juice Gold Label Triple Distilled
Extra pure thanks to triple distillation and twice as strong as previous Jungle Juice Gold Label Poppers.
Only with us there is the original from Lockerroom from Canada. Protect yourself from counterfeits with questionable ingredients and unknown effects.
Stronger than the Jungle Juice Platinum and with an intense scent and perfect quality.
The classic from the Jungle Juice family with the erotic aroma that has a large fan base and you will like it too.
Buy now our Jungle Juice Poppers
No matter which Jungle Juice Poppers you buy from us, you will always get fresh original goods from the leading Canadian manufacturer Lockerroom. These quality products are all based on Pentyl Nitrite, Hexyl Nitrite or the innovative Canadian Pentyl Formula.
To help you test and compare the different Jungle Juice poppers, we've put together the ultimate Jungle Juice 10ml combo for you. We are curious about your experiences and look forward to a product review.
Even though Jungle Juice products get their name from the fruity smell of the alcoholic drink of the same name, poppers should never be drunk.See our article "Danger of confusion".
So you can start cleaning your leather immediately, we send your poppers discreetly packed and well protected in 1-3 working days with Swiss A-Post to you.